There are few cooking staples as versatile as potatoes, and the problem always arises on how to store potatoes properly.
Ten pounds of potatoes can be a real challenge in figuring out how to store them. Lack of proper storage will result in sprouting, and when you see this sign you'll be obliged to do away with them as they'll not be as tasty.
It is better not to leave potatoes and vegetables out in the elements or in the pantry or refrigerator but to use the best potato storage bags. Below are the five best storage containers to store your potatoes and help you keep your food fresher longer.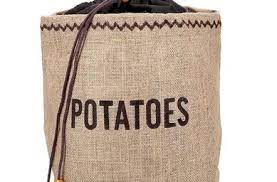 Cuisine Elite Large Potatoes Kitchen Canisters
When using larger potatoes, make sure that the potato storage bags are also significant in size. Overall, this set of cuisine elite canisters has a carrying capacity of 11 pounds each. This makes keeping potatoes and onions much more accessible.
Even though they are made of metal, they appear contemporary due to the painted top design. Breathing holes are incorporated into the design that also obstructs some light and makes these bags sprout free.
This hinders any sprouting of the potatoes as the environment is maintained at dark and well aerated.
Lifting the lid allows you to get the potatoes on the inside. Both the lid and the container's sides include a handle to help you in lifting the container, also enhancing its portability.
Kito Living Canister Sets for Kitchen Counter
These containers are made of bamboo, steel, and plastic. It's scarce to find a set of storage containers made solely from this mix of materials. Hence its durability is out of the question.
Stacking three containers is possible even with the top handle to help you save space.
The handle is wooden, with the cover made of bamboo. A powder-coated steel frame ensures durability and can withstand humid conditions.
Because of their self-locking nature, there is no need to worry about them getting out of place when stacking. The stacking is easy as the thickness of the lid is 0.5 inches.
TENKIU Wooden Potato Storage for Kitchen
Keeping potatoes fresh and attractively packaged is a top priority for many people. You ought to consider Tenkiu wooden potato storage and give it a shot. Even though there are other wooden potato storage boxes, this one stands out due to the wired front and back.
Ventilation is greatly improved due to this design, so you won't have to worry about your potatoes going bad when storing. The door's top has a modified slanted hinge ensuring it's easy to get to the potatoes.
Pinewood is rarely used to make storage containers, well, except in this one. Pinewood is a hardy wood ensuring the durability of your kitchen storage container.
Tupperware Modular Potato Storage
Every person doesn't need to have their own set of storage containers. A potato-specific container like this one is a dream item for many people. If you are after a suitable potato storage container, this one should be one of your solutions.
The dimensions of this container are 15.9″ x 14.02″ x 7.99 inches. It's relatively smaller, so it can be stored easily when not in use. With its dishwasher-safe nature, it is effortless to clean and maintain.
Picking up and storing potatoes, fruit, or vegetables is a breeze because of the front flip-open lid. You can see holes in the lid if you take a closer look. The perforations in the walls allow air to flow through. As a precautionary measure, the potatoes are stored in optimal conditions.
Graziosi Kitchen Storage Canister
Storage of potatoes, garlic, and onions is made easy with this assortment of containers. The containers have labels; hence it's easy to keep track of all three containers.
Because of their antique design, they will readily fit into your kitchen simultaneously, saving on space. It's a bad idea to buy a kitchen storage container without checking the construction quality. However, a high-quality steel sheet is in the construction of this one, guaranteeing minimal degradation.
Conclusion
It's simple to store potatoes in a small space and have a container that looks good, but it is also vital if you choose one of the best potato storage containers discussed above.
Potatoes becoming spoiled and sprouting while they are stored should be a thing of the past in the kitchen. So much can be stored in those bins, including an onion or garlic. Attempting to store potatoes in improvised ways and dealing with the associated difficulties is not worth the trouble. You can quickly address these problems with the storage containers in this list.